"COURAGE IS AT THE BEGINNING OF ACTION,
Even stones that are placed in your path can have a pretty shape and inspire new things: We, Claudia and Malte Schindler, have been on a professional path together as a couple with noën since 2006, which has not always been an easy one. But the deep conviction and basic trust that we can make a difference with our jewelry made from fairly traded gold, that we can not only make things beautiful but also make the world a little bit better, have carried us through many a valley. Literally and figuratively. Because in order to get to the source of the responsibly mined precious metal - we tell you more about it on page 38 - we had to move far away from our own comfort zone in every respect. But pioneers, and that's exactly what we are in the jewelry industry, sometimes have to take paths that have not been taken before. Together we have already cleared many hurdles and tirelessly searched for new ways in which we can use our jewelry to open up a new perspective not only to lovers of beautiful things, but also to the people in the gold mines. This has resulted in exceptional, noble jewelry that has been certified with the Fairtrade seal since 2015 and is in harmony with human needs and those of the planet.
Founder and CEO
Claudia Schindler
I believe in the POWER of jewelry!
In its power to tell stories!
In its power to celebrate and immortalize the moment!
I believe in its power to create and continue a tradition!
But above all, I believe that jewelry made from
responsible gold can positively change our world and the lives of millions of people working in the mining industry. Driving this change is my mission!
HAPPINESS IN THE END."
(Democritus)
In our work, in which we have found the most beautiful and meaningful career, we are guided by three core values. They are bundled in our brand name: noën, which is derived from the Japanese first name Noemi, which translates to "purity", "clarity" and "beauty". It is precisely these attributes that determine everything we do. It starts with the miners who extract the gold we use responsibly and who work and live under fair conditions. It extends to a transparent and seamless supply chain and ends with our clear, puristic design language, which is inspired by numerous trips together to Scandinavia and outlasts fashions and whims. As the granddaughter of a Pforzheim jewelry entrepreneur, Claudia knows from the experience of three generations: Good design also means longevity. A piece of jewelry that is loved, worn and perhaps one day even passed on for many decades is always more sustainable than something that quickly loses its appeal and is no longer used.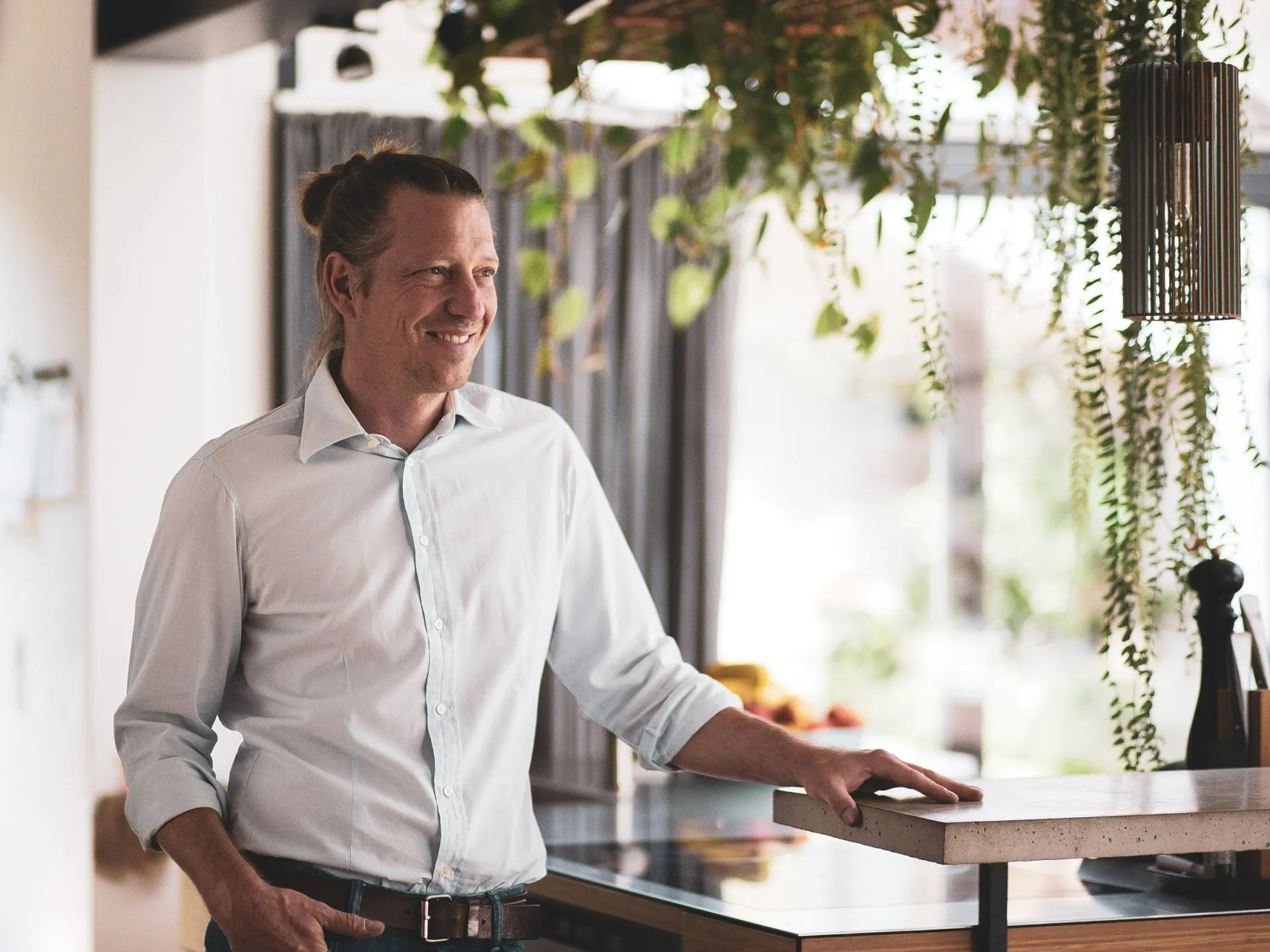 Founder and CEO
Malte Schindler
With noën we always want to provide new inspiration. Because only movement creates new energy. This applies to both of us and especially to Malte, who as a product designer is responsible for our design language and draws his creativity from the constant urge to create and create things.
Whether cooking, the design process or working in the garden and in the workshop, his design approach is always the same: from a pool of infinite ingredients, colors and shapes, he combines those that best suit his aesthetic sensibilities. The aim is always to make the essentials, i.e. the everyday "precious things" such as a leaf, a root, a drawing, a sculpture or a shadow, visible. Only when things have taken shape in your head and the recipe has been refined by Claudia's female intuition does the implementation of the ideas developed together begin. As a result, designs for (self-)conscious, detail- and design-loving people like you are created in our factory near Pforzheim who want to know who is involved in the creation process of their piece of jewelry. For people who want to use their vote to make the world a friendlier place. In short: jewelry that makes you happy, that inspires and that supports you and others.